CHARTER MEMBERS (& CHILDREN) OF CLARK FIELD BAPTIST CHURCH
The first 28 names were the original signers for membership in December 1959. The charter membership remained open until January 1960, and the additional names were added. The list at the right is from a summary written on CFBC's first anniversary by Elsie Talley. The numbers in the picture correspond to this list. Even though they are based on 50 year old memories, we have good agreement on the identity of the individuals who are numbered, and these names are checked √ . There are still a few adults unidentified; contact acemoonbeam@att.net if you can help. Most of the children have been identified.
The photograph came from Roy and Betty Laird's photo collection, photographer unknown. NIP means "not in picture." An asterisk * indicates those believed to be deceased.
| | | | |
| --- | --- | --- | --- |
| 1 | √ | Smith | J Allen |
| 2 | √ | Smith | Frankie* |
| 3 | √ | Smith | Steven |
| 4 | √ | Talley | Herman |
| 5 | √ | Talley | Elsie* |
| 6 | √ | Talley | Patsy |
| 7 | √ | Roberson | Doyle |
| 8 | √ | Roberson | Olivi |
| 9 | √ | Laird | Roy* |
| 10 | √ | Laird | Betty* |
| 11 | √ | Laird | Guyla |
| 12 | √ | Laird | Steven |
| 13 | √ | Shelden | Millard* |
| 14 | | Shelden | Mary |
| 15 | | Shelden | Barbara |
| 16 | √ | Pasley | Patrick |
| 17 | √ | Pasley | Kitty |
| 18 | √ | Watson | Van |
| 19 | | Banker | Ray |
| 20 | NIP | Kennedy | Paul |
| 21 | √ | Kennedy | Maxine |
| 22 | | Fryer | E.L. |
| 23 | | Fryer | Dorothy |
| 24 | √ | Stroud | Joseph |
| 25 | √ | Stroud | Pat |
| 26 | √ | Harris | Norma |
| 27 | √ | Bautista | Jose |
| 28 | √ | Punzalan | Carmilito* |
| 29 | | Sourilio | Gorgoiu |
| 30 | | Spicer | Aleck |
| 31 | | Spicer | Mrs. Aleck |
| 32 | | Davies | Mrs. Chris |
| 33 | | Lindholm | John |
| 34 | | Lindholm | Mrs. John |
| 35 | | Beckham | Lewis |
| 36 | | Lariozar | Bonifacio |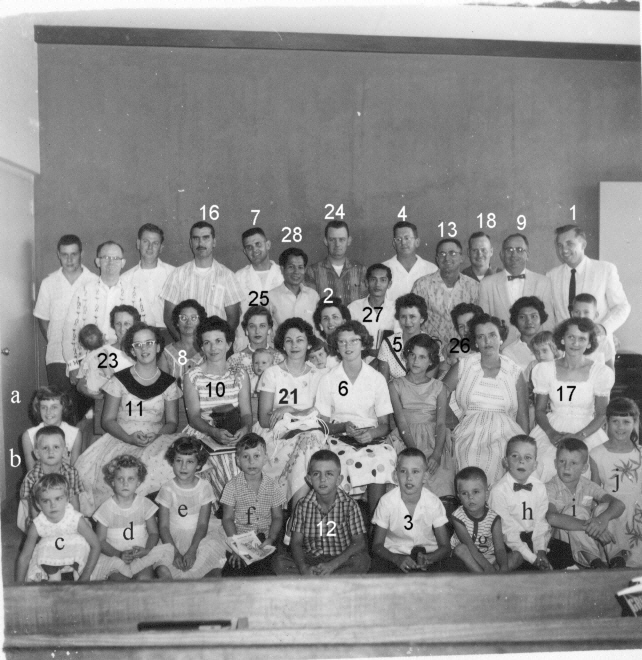 NOTES ON CHILDREN:
#1: boy in front of J Allen Smith is Stan Smith #23: Frankie Smith is holding unknown infant
#25: Pat Stroud is holding the Stroud's son, Kent female child in lap of Filipino woman unknown
a: Susan Smith b: Randi Laird
c: Sissy Harris d: Vicki Kennedy
e: Joalyce Kennedy f: Tommy Harris
i: Jimmy Talley j: Cherie Pasley