History provided by Cecil Marvin Spivey (2009)
<![if !vml]>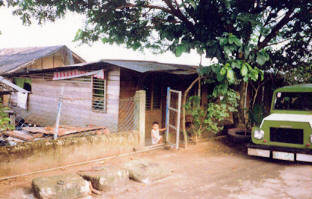 <![endif]>In July, 1987, the church invited Pastor Marvin and Lynn Spivey to come and preach a revival for the church to meet the Spivey family in view of a call as pastor. The church voted unanimously to call Pastor Spivey as the pastor of Clark Field Baptist Church. They were serving the International Baptist Church, Hong Kong through the International Mission Board.
After doing some language study in Antipolo, Rizal, outside of Manila Pastor Spivey and his family including their daughter, Alicia, arrived in Angeles City to begin serving the church as pastor in October, 1987. Their daughter was enrolled at Wagner High School on Clark Field Air Base and lived with her parents in the mission house just off the Side Gate and Frontage Road to Clark Field.
<![if !vml]>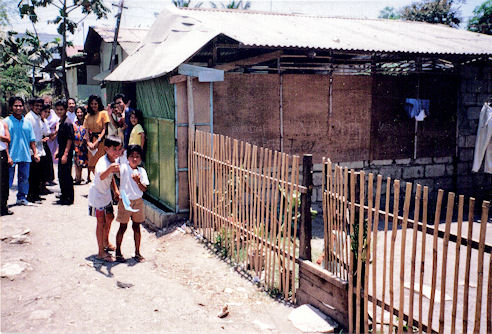 <![endif]>The church had called Chris Calalang as Associate Pastor for local missions. A Tamaraw vehicle was purchased for use in our mission work. There were mission points in the east of Pampanga Province at Mexico and beyond. The work was conducted exclusively by Filipino Christians from the church as provincial travel was prohibited for military personnel.
Political unrest following the overthrow of Ferdinand Marcos' presidency, in 1987, had led to the killing of three American personnel assigned atClark Air Base. One of those men was a faithful member of Clark Field Baptist Church, S/Sgt Randy Davis. He was chairman of the takky committee (carried the offering to the bank on the base) for the church. He was shot and killed across McArthur Highway from the McDonalds Restaurant in Balibago. Prior to this, there had been many American personnel, members of Clark Field Church, who had been heavily involved in mission work throughout central Luzon. Clark Field Baptist Church had established about 45 other churches in the area surrounding Angeles City. Angeles was a thriving city of approximately 250,000 people.
Our mission effort had led to the establishment of mission points on Mount Pinatubo in addition to the already existing mission at Burog. Pastor Calalang would use the Tamaraw to transport upwards to 20-25 Filipino Christians to do ministry in the Province. Our military personnel were allowed to go to these mission points on a case by case basis. Additional shootings occurred and finally, all military personnel were restricted to the base.
The Installation Chaplain at Clark Air Base was Southern Baptist. Chaplain Carl Bilderback and his wife were involved with evangelism, using Evangelism Explosion and Navigator disciple material. With their leadership, many of our members were able to continue their desire to lead other service personnel to salvation and discipleship. They mentored these new Christians under Chaplain and Mrs. Bilderback's leadership.
<![if !vml]>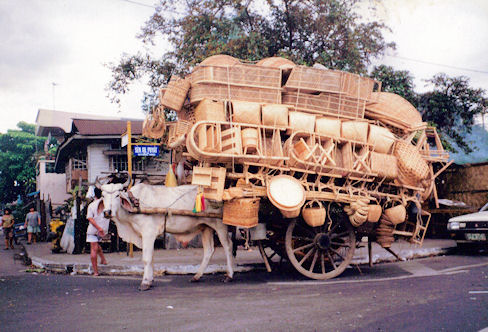 <![endif]>Major Steve Roundy served the church as Sunday School Director and Major Randy Hill was chairman of deacons during Pastor Spivey's service. During their service, the church grew in aggressive manner. Pastor Calalang used the Tamaraw to provide transportation to Sunday School for our members. Growth continued until Mount Pinatubo erupted in 1990. The volcano eruption followed on the heels of a massive earthquake (8.0 magnitude) with its epicenter in Cabanatuan Province about 45 miles away from the church. San Jose, in Cabanatuan Province, also experienced massive damage from the earthquake. During the earthquake, Marcos Highway, going to Baguio was destroyed, limiting travel to the seminary located there.
Carlos dela Cruz remained our faithful church secretary and did an outstanding job being the face of Clark Field Baptist Church through the transition of several pastors and interim pastors. It was during this time that Linda Palacio, our Women's Ministry Director was elected President of the Luzon Baptist Convention Women's Ministry. She served for one year through their annual meeting in Mindinao in 1990.
Perhaps the greatest evangelist and soul winner we had at Clark Field Baptist Church was Forbes Fuller. He was an American businessman, married to Lourdes and lived in Mountainview. His desire was for every Filipino to have their personal Bible. He received used Bibles and would give them to people he witnessed to along with a tract he had written. Only eternity knows the number of people he has led to the Lord Jesus as Savior. He would take a bus to Manila and beyond and witness to everyone who would listen. He would give a Bible and a tract to them and then continue on to the next person who would listen. He would then purchase a ticket and return to Angeles City and repeat his ministry on the return trip. He received Bibles from several sources. But the most impressive source was from the States. A radio personality from New England, whose name I forget, would solicit and receive Bibles and then send them to Forbes Fuller in the Philippines. These Bibles would be given to anyone who needed a Bible. We received requests for <![if !vml]>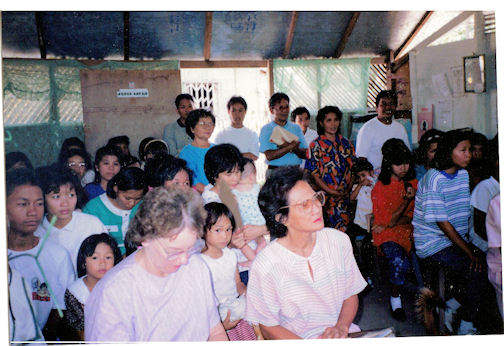 <![endif]>Bibles from all over the world. One of the most impressive was from Nigeria.
A pastor wanted Bibles to give to each of his church members. Brother Fuller was an alumnus of Stetson University in Florida. He and I had that in common and it lent itself to a strong friendship. He and his wife were church planters in love with Filipinos. They would hold Bible studies wherever a need was identified. One of the mission points was in a subdivision behind McDonalds Restaurant in Dau. Of course, he participated with Pastor Calalang in the general mission work of the church in the eastern part of Pampanga and other places. The Fullers used their Tamaraw to transport innumerable people to church for worship and Sunday School on Sunday and for prayer meetings and Bible study on Wednesday Lourdes Fuller often carried Filipina women to clinics for medical attention and care. She located service for needs and then matched the people for care to be given..

<![if !vml]>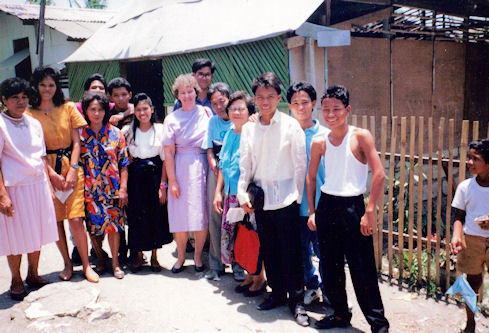 <![endif]>Another ministry started by the servicemen attending the church was "Amazing Grace" orphanage. They ministered to street children who were primarily Amerasians. Upward to twenty-five to thirty boys and girls were cared for through that ministry. Helen dela Mesa was the primary caregiver. She lived among the children and affirmed their status and culture by being a parent to them. This ministry continued until Mt Pinatubo erupted and it was discontinued because of the lose of funds through the transfer of servicemen and families who had given strong support to it. Pastor Calalang is open to restarting the orphanage as funds become available as the need remains very strong because of the continuing growth of street children with no viable means of support.

You can "google" "Dau-Mabalacat" on the internet and locate links of these areas around Clark Air Base. On one site, there is a tricycle ride up and down the streets of Balibago and other places and the need of the people can be seen. It is especially apparent following the exit of the U.S. military presence following the volcano and the discontinuation of the Mutual Bases Agreement. The end of the agreement and the volcano came almost simultaneously thus causing a departure of very much needed resources for a blight stricken area. In contact with the church, there is still a strong need for missionary contact through teaching and evangelism under the local church.
<![if !vml]>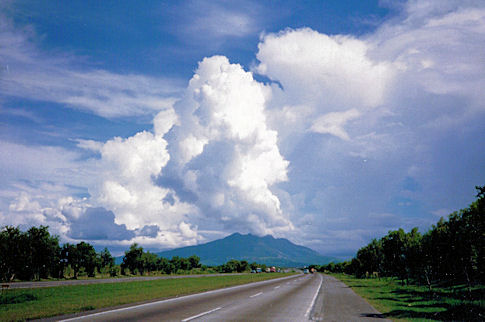 <![endif]>The church, in addition to being a strong mission church, sponsored Central Luzon School of Theology. The local pastors from the San Fernando Baptist Association including Angles City pastors provided the faculty for training young Filipino men and women who were following God's call on their lives to minister in local churches. Many of these students followed up their beginning theological education at CLST, by enrolling at the seminary in Baguio. In 1988 a young Filipina doctor, Dra. Yolly Iberetta, came to us asking to be sponsored in her work at Mt. Pinatubo. A living facility was constructed and she moved into the village to assist in teaching hydroponic gardening as well as personal hygiene to the Ieta tribes people living there. She remained on the mountain for about six months but had to leave with the impending volcano eruption. The Ieta tribes were moved to Palawan Processing Center to spare their lives from the massive volcano that was fermenting.
In 1989, Pastor Spivey was called back to the States following his mother's death. They remained on furlough with stateside ministry for nine months. During their absence, Missionaries Bob Nash and Wendell Smith served as interim pastor. The church continued its aggressive growth during their leadership. Upon Pastor Spivey return in December, 1989, Dr. Jerry Rankin, Area Director over the Philippines with the International Mission Board, met with the church on Wednesday following Pastor Spivey's arrival and consulted the church on assuming a fuller role in pastoral support. Heretofore, the church had been remitting funds to the Philippine Baptist Mission, Manila and the IMB was giving full funding for pastoral support. The International Mission Board was moving from fully funding English language missions and needed to devote essential funds to the reaching of last frontier people groups.
Pastor Spivey continued to lead our church until being reassigned to a metropolitan church planter's job in Las Pinas, south of Manila. They left the church, October, 1990.