Fairfield Harbour Fishing Club Sponsors
"Wounded Warriors" Fishing Trip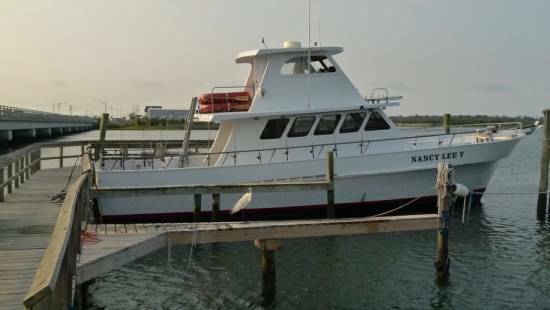 On a windy, but warm Wednesday morning, June 8th, the Fairfield Harbour Fishing Club took 13 Wounded Warriors on a fishing trip 1½ hours offshore from Swansboro. We were aboard the Nancy Lee, a 52' foot charter fishing trawler under the command of our skipper, Captain Lee Manning. George Maravelas coordinated the outing with retired Marine Lieutenant-Colonel Chris Hedgcorth and Ms. Emma Riley, Outdoor Adventures Director, Hope for the Warriors, Jerry Dilsaver, Outdoor Sports Writer for NC Sportsmen magazine and Ed Wall, Outdoors Sport Writer for the New Bern Sun Journal also accompanied the group. Jerry has been heavily involved with the Wounded Warrior program and outdoor events for some time and helped George with logistics for the event. Five members of the FH Fishing Club went along as hosts for the troops. In addition to George, other FHFC members included Bob Bruggeworth, Frank Picco, Jim Phillips, and Bob Dumon, the trip's photographer. George's Grandson Dillon Maravelas also joined us.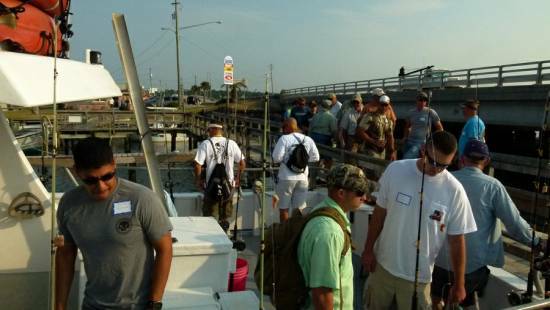 Welcome Abourd
While the breeze helped offset the heat from the sun, it also create a bit of a chop, however that didn't stop the Marines from catching plenty of fish and having a great time. Several took home enough fish, mostly sea bass, along with a few grunts, porgies, and hog fish, for some very nice dinners. The one uninvited shark who was hooked after nosing his way into the event was quickly cut loose!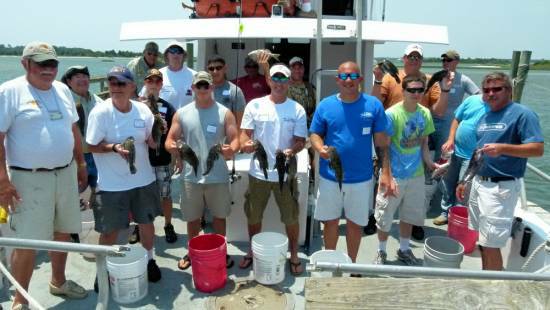 Following the trip, everyone congregated at the nearby Riverside Park for a catered picnic. Chris Maravelas' catering company, 2 Chef's Catering, prepared a terrific meal consisting of some truly sensational Southern Fried Chicken, cold slaw, baked beans, hot corn muffins, iced tea, and cake. The red, white, and blue cake was decorated with an American flag and the words, "Warriors - God Bless You and God Bless America."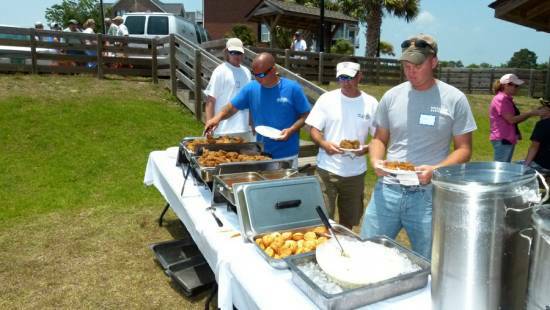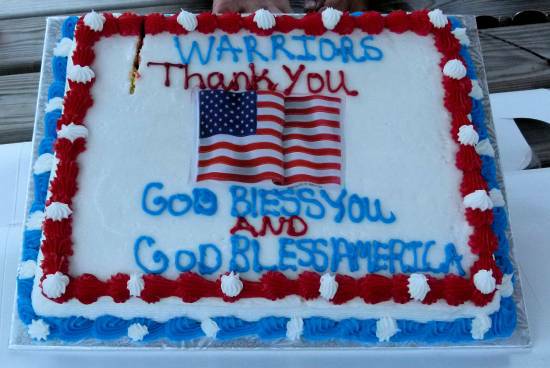 After everyone finished eating, retired Lieutenant-Colonel Chris Hedgcorth presented George and the FH Fishing Club with a plaque thanking the club for the outing. It was a great day for all involved….