On Wednesday, November 9th the Fairfield Harbour Fishing Club held a "Spouse's Night" banquet at Taberna Country Club. The originator of the Spouse's Night concept was Gus Villanova, who planned and coordinated the event with Taberna C.C.'s staff. Assisting Gus in final logistics for the dinner was Harvey Pye, the evening's moderator, who also provided the guests with a "wee bit of Scottish humor." Following "Happy Hour" club members served their spouses dinner. Several attendees commented on the exceptional quality of food and attentive service provided by the staff at Taberna.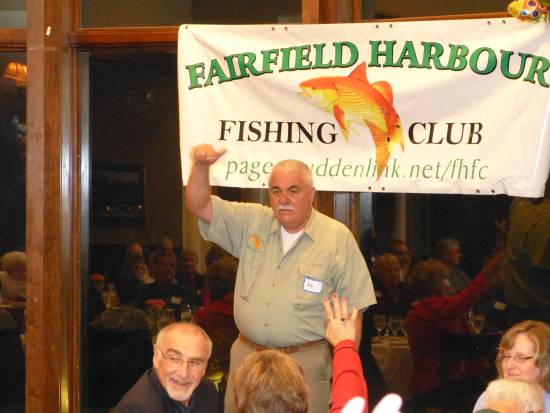 During Happy Hour, "50-50" raffle tickets were sold by club members Ruthie Levin and Carol Miller, with $150 split between two "Mary B" winners… Mary Baldwin and Mary Bruggeworth. After dinner "Fish Balloons" were auctioned off by the club's official auctioneer, Elmer Stenzel, with the $212 proceeds from the auction going into the Club's "Wounded Warrior" Fund.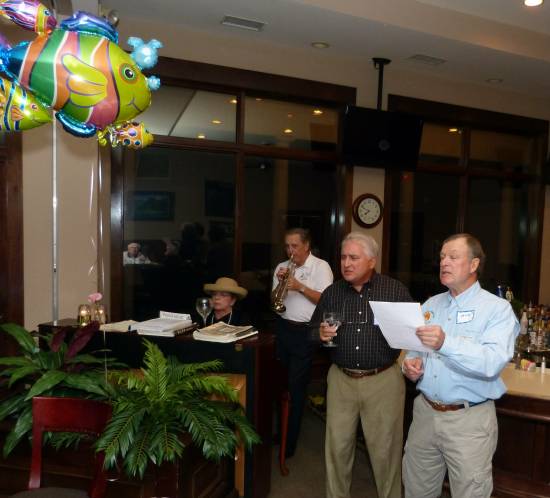 Margaret Rose, on piano, provided dinner music, Bob Dumon sat in on a few tunes on trumpet, and the vocal duet of Wayne Massetti and Harvey Pye entertained the crowd with their rendition of "It's a Wonderful World."
Submitted by FHFC member Bob Dumon
See more of Bob's photographs here.