Welcome to our bird deterrence products calalog for bird animal deterrence devices, sound, visual, scare irritant-preventive solutions including spikes, netting, tape, terror-scare eyes, prowler owl, strobe light, etc. For bird deterrence abilene, texas, bird deterrence, bird, deterrence, resistance, prevention, scare, devices, equipment, spikes, netting, mesh, tape, prowler owl, strobe light, abilene, abilene texas, glass care-winco, glass care, winco, Glass Care, Winco, west texas, west, west central, central, central tx, TX, services TX, services, high rise services, high rise company, high rise, company, companies, service, professional service, professional, residential, residential service, storefront, storefronts, commercial, commercial building, commercial office, office, home, post construction, new construction, construction, window cleaning, window, cleaning, washing, awning, awning care, awning sealing, ultrasonic blind cleaning, ultrasonic, blind, rain gutter, rain gutter screening, rain gutter repair, repairs, maintenance, building maintenance, building repair, sign maintenance, sign repair, sign, skylight, skylights, ceiling fan, ceiling fans, fans, chandelier, chandeliers, light, lights, light fixtures, fixtures, fixture, bulb replacement and much, much more, you have found the perfect site. We also have catalogs for Little Giant Ladders and accessories and Rock and Rescue Equipment.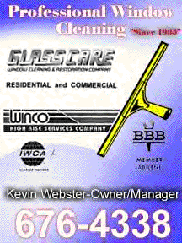 Humane Bird and Animal Deterrence Devices - Abilene, Texas
Humane Bird and Animal Deterrence Devices - Abilene and West Central Texas
If you are looking for humane bird deterrence devices or small animal deterrence devices designed to humanely repel a nuisance population away from your building, home or other problem area, you have definitely found the right site. Winco High Rise Services Company of Abilene Texas provides a broad range of humane deterrence products available online as well as "hands on" planning, design, installation and related services in the West Central Texas area.
As mankind has become more and more environmentally conscientious, humanely dealing with these age old problems such as deterring bird infestations or unwanted small animals has become a bit more of a challenge. The need for deterrence devices and systems that humanely remove the problem rather than just killing it off, has resulted in the design of several great products in effort to address the vast array of difficult situations encountered. As a result, there is likely to be a readily available solution to the particular problem you are dealing with, regardless of how impossible it may seem at the moment.
As you explore our site, whether you are looking for ideas, advice, equipment, installation or the whole works, you will discover that we are a great resource to help you in both solving the problem at hand as well as many other needs you may have in caring for your property.