Little Giant Ladder MXZ Jumbo Safety Step Lowest $ Ship Free
LITTLE GIANT LADDER SYSTEMS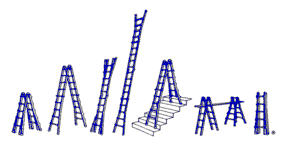 "ONE LADDER DOES IT ALL"
If you are looking for a highly adjustable and versatile, extremely stable and safe, and amazingly portable A-frame, step or extension ladder, you have come to the right place. The ladder of choice is of course, the Little Giant A-frame, extension, step ladder, the Little Giant MXZ A-frame, step ladder or the Little Jumbo Safety Step or Compact Step, depending on the application you will be using it for.
Wing Enterprises has thought through the various facets of typical ladder uses so thoroughly that one Little Giant ladder may be the only ladder you will ever need for the rest of your life. Not only does the Little Giant ladder provide an A-frame ladder (steps on both sides) that has one foot increment adjustability, but with the ease of simply pressing two knobs, it can also be opened up into an extension ladder with the same one foot increment adjustments. Along with the aluminum models, Wing even offers fiberglass models just in case you are dealing with electrical hazards.
As a highly adjustable A-frame ladder you will find the Little Giant to be far superior to typical step ladders in versatility of uses and even more importantly, stability and safety. The A-frame can be set at the perfect height to allow the person on it to access the work in the safest manner possible. If desired, a person can easily straddle the top of the Little Giant to allow the use of both hands in dealing with the work.
The adjustability of the Little Giant also allows a person to set the ladder on a staircase or perhaps straddle a bush and get closer to the work by setting the legs at different lengths.
This type of use of the A-frame is also a great opportunity to make handy use of Little Giant work platform, one of the system accessories designed to make your ladder even more accommodating and safer in accessing the work at hand. The work platform itself, has a vast array of potential uses.
Other Little Giant ladder system accessories include the Leg Leveler, and the Wall Standoff. Again, these are well thought through tools to make your ladder even more versatile, stable and safer than it already, amazingly is.
The Wall Standoff and Leg Leveler can be especially handy if you really need more height and have opened the Little Giant into an extension ladder. Just pressing the two knobs allows the ladder to be opened into a ladder that extends in one foot increments to nearly four times it's smallest height. Achieving the precise height to safely access a roof, or perhaps a second or even a third floor window can be a cinch using a ladder so adjustable that you can store it in a small closet or quite possibly even in the trunk of your car.
For even greater A-frame heights for areas such as theatrical stages, gymnasiums, etc., the Little Giant MXZ ladders come in sizes that can extend as high as 21 feet and still be lowered in one foot increments to nearly half of their tallest height. The MXZ makes a great lighting ladder and is also great for trimming trees and giant evergreens, as the upcoming pictures will illustrate.
If you are needing to perform work on a both tall and wide area, once again, Little Giant has your problem solved. The Little Giant Ladder System is designed to allow you to use one ladder to support both ends of a plank by separating the sections and setting them up as two A-frame trestles. To top it off, Wing Enterprises also provides the Little Giant Telescoping Plank, again offering the versatility and adjustability you really need with a ladder and walkboard scaffolding system.
For your two, three and four step ladder needs, the Little Jumbo Safety Step and the Little Jumbo Compact Step are each a virtual staircase that folds away into an ultra thin storage size with a simple lift of the ladder. This Little Jumbo ladder has amazing strength and stability for extremely safe access of your high shelves or hanging items.
Whether your needs are personal or commercial, residential or business, short or tall, Wing Enterprises offers the ultimate ladder for your needs. Never again will you need to find yourself or your workers on a wobbly, life threatening ladder. The clear and readily available solution is the Little Giant Ladder System!
Please explore the following pictures of the ladders and accessories in action and consider the discussion of the vast array of uses the Little Giant Ladder has to offer. Once you have realized the unlimited value of these ladders for your particular needs, we can have them on your doorstep and planted firmly beneath you and/or your worker's feet soon thereafter.