Amy Grech
Amy Grech ushered in her love for horror at an early age. She pursued her interests and stayed true to her calling. What could have been just an ordinary life, has turned into normalcy with a twist of bizarre. Hanging out occassionly in Alphabet-city (New York's term for Aware, Beware Caution and Death) she's got a conneiseurs taste for the morbid, and a Sotherby collector's eye for detail. What most would turn an eye from, Amy soaks all in and seemingly repels the issues that might plague one that is intent on writing about erotic violence, cruelty, vengeance, and greed. She writes about her characters as though they are roommates. She's assured me, they are not. Her roomies are furry critters.
At times, she will repeat a statement or a line, or a joke that she has used in her actual life, but her characters are completely fictional and created only to fuel her lust for writing horror. I told her that I wasn't a horror-fan, but there was something about her work that snuck up on me. It could have been the way she described her surroundings or the great detail she offered in conjuring up the looks of a player. The scenes unfold with twists and turns at times and I found myself not being able to even guess which direction the story would take. The gore is there but it's not silly. It seems to be tastefully done gore, if there is such a thing. Amy is not sparing in her use devilish behavior in her characters but they are not overdone. I like my steak medium-rare and that's the way I would classify Amy's skill in telling a good horror story. She's got a rare gift that speaks to one's soul much like a medium would do.
Apple of my Eye is well worth the read. There are about a dozen short-stories compiled in this book. It's the best of her works over a number of years. Do yourself a favor and savor the flavor of horror, Amy Grech style.
To Purchase her Books:
Click the Images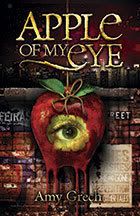 BTC Archived Show: Amy Grech