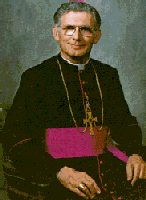 Most Rev. William H. Keeler
Seventh Bishop Of Harrisburg 1983-1989
Opus Fac Evangelistae. Do the work of an evangelist. (II Timothy 4:5)
William Henry Keeler was born March 4, 1931, in San Antonio, TX, the son of Thomas L. and Margaret T. (Conway) Keeler. He was raised in Lebanon, PA, where he attended St. Mary School and Lebanon Catholic High School. He received a B.A. from St. Charles Seminary in Overbrook, Philadelphia, in 1952, and a Licentiate in Sacred Theology from Pontifical Gregorian University, Rome, in 1956.
Father Keeler was ordained a priest on July 17, 1955, in the Church of the Holy Apostles, Rome, by Archbishop (later Cardinal) Luigi Traglia. He served as assistant pastor at Our Lady of Good Counsel, Marysville, and secretary of the diocesan Tribunal (1956-1958). In 1961 he received his doctorate in Canon Law and returned as assistant pastor to the Marysville parish and defender of the bond in the diocesan Tribunal. In 1964, he became pastor of the Marysville parish.
As secretary to Bishop Leech during Second Vatican Council II (1962-1965) Father Keeler was appointed peritus or "special advisor" to the Council by Pope John XXIII. He also served on the staff of the Council Digest, a daily communication service sponsored by the United States Bishops.
At the close of the Council in 1965, he was named Papal Chamberlain, with the title of Monsignor by Pope Paul VI, and, in 1970, he was named Prelate of Honor by Pope Paul VI.
Monsignor Keeler was appointed as Vice Chancellor of the Harrisburg Diocese in 1965; Chancellor in 1969; and later Vicar General. He was appointed Auxiliary Bishop of Harrisburg and Titular Bishop of Ulcinium (Dulcigno) by Pope John Paul II on July 24, 1979. His episcopal ordination took place on September 21, 1979, at Saint Patrick Cathedral, Harrisburg.
Upon the death of Bishop Joseph T. Daley on September 3, 1983, he was elected Administrator of the Diocese of Harrisburg by the College of Consultors. Pope John Paul II appointed him Bishop of Harrisburg on November 10, 1983, and he was installed as the seventh Bishop of Harrisburg on January 4, 1984, by His Eminence John Cardinal Krol of Philadelphia, at Saint Patrick Cathderal, Harrisburg.
During his years in the Diocese of Harrisburg, Bishop Keeler served in numerous capacities: member of the Diocesan Evangelization Commission, Board of Managers of Holy Spirit Hospital, Board of Directors of Villa Teresa, Interreligious Forum of Greater Harrisburg, Joint Committee of Lutheran and Roman Catholic Bishops, Pennsylvania Conference on Interchurch Cooperation and the Executive Committee of the Pennsylvania Catholic Conference.
Bishop Keeler was appointed Archbishop of Baltimore by Pope John Paul II on April 11, 1989, and formally installed as the fourteenth Ordinary of the nation's oldest See on May 23, 1989, in ceremonies at the Cathedral of Mary Our Queen.
An influential participant in national and international issues involving the church, Archbishop Keeler was elected President of the National Conference of Catholic Bishops (NCCB) in November 1992. He is well known for his work in Catholic-Jewish dialogue. He serves on the Pontifical Commission for Promoting Christian Unity and the Pontifical Council for Inter-Religious Dialogue. On November 28, 1994, His Eminence William Cardinal Keeler was elected to the College of Cardinals by Pope John Paul II.
(Roman Catholic Diocese of Harrisburg
http://www.hbgdiocese.org/archives/WKEELER.html)