Lenz nominated for community honor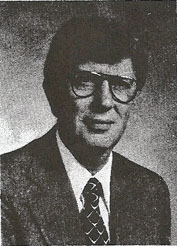 Gov. Robert D. Ray has proclaimed Dec. 5 as "Iowa Community Betterment Recognition Day" for Corning and 160 other communities in the state.
Area communities entering the awards competition include Bedford, Corning, Creston Cumberland, Lenox, Red Oak and Villisca.
John Lenz, long-time Corning High School English and speech instructor, has been selected by the Corning Community Betterment Council as the Corning citizen to be honored at the statewide ICBC Recognition Day in Des Moines Dec. 5, 1978.
Mr. Lenz was selected for his many contributions to community life, particularly for his efforts in helping to organize The Icarian Players, local theatre group.
He also was named for his many volunteer hours in organizing and directing the group's productions.
Mr. Lenz and his wife Mary will be guests of the local council at the luncheon and banquet.
(Adams County Free Press, November, 1978, p. 1)