St. Joseph Catholic Church
Quite early in the history of Preemption township, the Conways, Odays, Brenens, and a few others of the Catholic faith, settled in and around the southeast part of the township, and to them occasionally priests from Rock Island would come and minister, holding meetings at the cabins of the early settlers. This was continued up to 1875, when steps were taken to build a church, which was soon accomplished. On January 23, 1875, a subscription was drawn up by Daniel Mack, who subscribed $100. This was followed by several other $100 subscriptions. The Macks, the Conways, the McManises, the Dooleys, and the Lucuses, leading. Many of what might be termed outsiders and members of other churches also lent a helping hand to the enterprise; foremost among whom was William W. Johnston, who donated twenty-five dollars. On January 30, 1875, the contract to build a church, in size 30 X 42, of good material, with stone foundation, was let to Mathias Schnell, who completed the work the following July.
On September 9, 1875, the church was dedicated by Rev. Father I. P. Rowles. The edifice cost $1,600 which was promptly paid. In 1878 a vestry, 12 X 14 feet was added, at a cost of $166. The building now presents a neat and substantial appearance, and the interior outfit and finish would do credit to an older and wealthier congregation. They now have a membership of about thirty families, and have services every alternate Sabbath. Their pastor is a resident of Keithsburg, and as both this and the Keithsburg church are one charge, reference may be had to the history of that church for the names of the past and present officiating priests. This, like all other Catholic church property, is vested in their bishop.
(Mercer County History, p. 711)
St. Joseph's
This congregation has its beginnings with the Irish immigrants who came and settled in Preemption Township. In 1875 they decided to erect a building, and Joseph Conway, one of the first seventeen men to settle in the area, gave the land for a church site, a cemetery, and a school. Subscriptions were raised from the families, a building was erected, and on October 9, 1875, the building was dedicated by the Reverend Mr. J.P. Rolles of Rock Island. This building cost $1,600, and the vestry was added in 1878 at an additional cost of $166.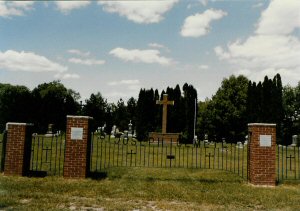 St. Joseph's Church was closed down in 1967, and the membership of this pioneer church was transferred to the St. Anthony's parish. The building was then torn down.
(History of Mercer County Illinois 1882-1976, p. 256)
______________________
Here are directions to St. Joseph's Cemetery where many of the first Macks who settled in Mercer County are buried:
These directions start from Preemption, Illinois which is located on Highway 67. Travel two miles west from Preemption on the Reynolds blacktop. Then turn South (left) and go for three miles. Then turn West (right) again and go for one mile. Turn South (left) and travel for another 1/2 mile. You will see the cemetery on the right side of the road.