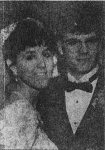 Basala-Mack
In a ceremony which took place on March 25 in St. Anthony's Catholic Church, Matherville, Jennifer L. Basala, Matherville, became the bride of Thomas E. Mack, Rock Island, The Rev. Ken Przybyla officiated at the 3 p.m. ceremony.
Parents of the bride are Dennis and Reeda Basala, Matherville, and the bridegroom is the son of Dolores Mack, 901 N.E. 7th Ave., Aledo, and the late Dennis Mack.
The bride's traditional satin gown featured decorated embroidered lace, pearls and sequins, and was styled with a sweetheart neckline and a redingote skirt with layered tulle underskirt adorned with scattered lace motifs. She wore a matching wreath-style headpiece with veil. Her attendants were attired in tea-length royal brocade dresses with sweetheart necklines.
Honor attendants were Denise and Pete Mack, Viola. Other attendants were Susan Ziegler, Coal Valley; Ann Both, Madisonville, Ky.; Karen Basala, Orlando, Fla.; John Mack, Aledo; Jim Mack, Palatine; Bob Quast, Davenport; Todd Walcott, Carol Stream, and Dwight Swartz, Viola.
There was a reception in the Moline American Legion Building. The honeymoon destination was Jamaica, and the couple reside in Rock Island.
The bride graduated from Sherrard High School and Western Illinois University, Macomb. She is a floral designer for Ben Franklin Crafts, Moline. The bridegroom is a graduate of Winona High School, Viola, and the University of Illinois, Champaign-Urbana. He is a civil engineer with the Corps of Engineers, Rock Island.