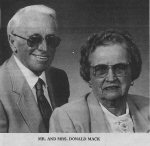 Mr. and Mrs. Donald Mack celebrate 50th wedding anniversary
Mr. and Mrs. Donald Mack of Viola will celebrate their golden wedding anniversary Aug. 3. The event is being planned by their family. All friends and relatives are invited to the anniversary mass at 10 a.m. at St. Mary's Catholic Church, Keithsburg. A reception will be held fro 2:30 to 5 p.m. also that day, at St. Catherine's Parish Hall, Aledo.
The former Marguerite Callahan and Mr. Mack were married Aug. 30, 1941, in St. Mary's Catholic Church. the Rev. Theodore Joerissen performed the ceremony. Her grandparents, Hugh and Mary Misckel O'Malley and Daniel and Julia Green Callahan, and her parents, Robert and Katherine O'Malley Callahan, were also married at St. Mary's Catholic Church.
He is a graduate of Viola High School and attended St. Ambrose College. She was graduated from Immaculate Conception Academy in Davenport. They have lived in the Viola vicinity since their marriage and are members of St. John's Catholic Church. He was engaged in farming and worked as a supervisor at John Deere Plow Planter for 25 years, retiring in 1977. She is a homemaker and a member of the St. John's Altar and Rosary Society and Mothers Study Club.
They are the parents of Catherine Fagan of Norman, OK, Mary Pechous of Iowa City, IA, roseanne Mack of Minitonka, MN, Daniel Mack of Minneapolis, MN, Patricia Newswander, Aledo, Irene Barry, Iowa City, IA, Michael Mack, Wichita, KS, Janice Albain, Cincinnati, OH, Bernard Mack, Davenport, IA, and Robert Mack, Fairfield, IA. They also have 24 grandchildren.
It is requested that gifts be omitted.