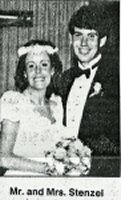 Stenzel-Mack
VIOLA--Joyce M. Mack, Chicago, became the bride of Charles J. Stenzel, Evanston, July 12 in St. John's Roman Catholic Church, Viola.
The bride is the daughter of Mrs. Delores Mack, Viola, and the late Dennis Mack, and the bridegroom is the son of Mrs. Carol Stenzel, Wenona, and the late Charles Stenzel.
The Rev. Edward Harkrader officiated at the 3 p.m. ceremony.
Escorted by her brother, Jim Mack of Viola, the bride wore a poly-or-ganza gown with a ruffled neckline, ribboned waist and flowers highlighting the multi-flounce skirt. Her headpiece was a wreath of white silk flowers.
Linda Mack, Oak Park, attended her sister as maid of honor. Bridesmatrons were Mrs. Tracy Thorson, Morris, Ill., and Mrs. Jenni Robertson, Maryville, Ill., with Anne Stenzel, Wenona, sister of the bridegroom, and Paula Ritter, Anna, Ill., as bridesmaids. Junior bridesmaid was Trina Smith, Viola. Their dresses were of pink taffeta.
Jeff Kemp, Lafayette, Ind., served as best man. Groomsmen-ushers were David Stenzel, Camp Liberty Bell, South Korea, and Dan Stenzel, Fort Lewis, Wash., both brothers of the bridegroom: Bill Fallon, Fort Ord, Calif., and Steve Brown, Newport, Ore.
A reception was held at Maxwell's Market, Woodhull. After a wedding trip to San Francisco and Las Vegas, the couple are residing at 1014 Noyes, Evanston.
The bride, a graduate of Winola High School, Viola, received a bachelor of science degree in civil engineering from the University of Illinois, Urbana, and is working on a master's degree in urban planning from the University of Illinois, Chicago. She is employed as an associate project planner for the Chicago Area Transportation Study. Her husband was graduated from Wenona High School and received bachelor and master of science degrees in civil engineering from the University of Illinois, Urbana. He is employed as a civil engineer by Barton-Aschman Associates, Evanston.