Mack couple
James V. and Patricia M. Mack, 11822 3rd St., Milan, will be honored Sunday at a family dinner in observance of their 40th wedding anniversary.
The former Patricia M. Montz, Rock Island, and Mr. Mack, Reynolds, were married Jan. 12, 1952, in Sacred Heart Catholic Church, Rock Island.
They have two daughters, Cindi Starcevich, Matherville, and Rondi Doyle, Rock Island, and three sons, Steve, Moline, James, Milan, and Craig, LeClaire, Iowa. There are four grandchildren.
Mr. Mack was employed for 15 years by Mer-Roc FS, Aledo, retiring in 1990. He previously was a farmer for 25 years in the Reynolds area.
The couple are members of St. Ambrose Catholic Church, Milan.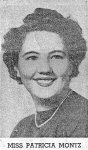 Patricia M. Montz and James V. Mack Engaged;
Plan Wedding in January
Mr. and Mrs. Oscar Montz, 703 Twelfth avenue, Rock Island, announce the engagement of their daughter, Patricia M., to James V. Mack, Reynolds, son of Mr. and Mrs. M. H. Mack, 1505 -Thirty-seventh street, Rock Island. The January wedding plans were announced at a family dinner.
Miss Montz was graduated from Rock Island high school and Moline School of Beauty Culture. She is employed at the Ninth Street Beauty shop, Rock Island.
Mr. Mack was graduated from Reynolds high school and attended St. Ambrose college. He is engaged in farming with his brother, Leo Mack. (The Rock Island Argus)