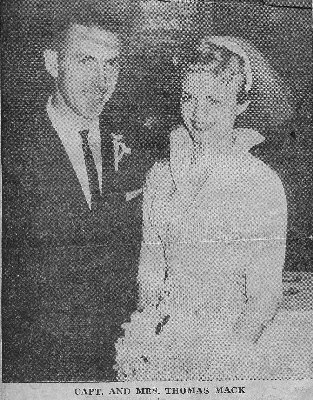 Captain Thomas Mack is Wed To Stewardess In Chicago Ceremony
Announcement is being made of the marriage on March 21, 1959, of Miss Linda Rosellee, daughter of Mr. and Mrs. John D. Nelson of Chicago, to Capt. Thomas J. Mack of Hill Air Force Base, Odgen, Utah, son of Mr. and Mrs. Bert Mack of Viola.
Vows were exchanged in St. Fidelis Catholic Church in Chicago, with Rev. Francis Plaszek performing the double-ring ceremony.
The bride, given in Marriage by her father, wore a princess styled afternoon dress of ice-blue, fashioned with three-quarter length sleeves and a v-neckline. The blush veil was of aqua and she carried a cascade arrangement of gardenias.
Maid of honor was Miss Virginia Stocklosa of Chicago and the bridesmaid was Miss Natalie Zinewick also of Chicago. They wore identically styled gowns of beige and yellow and carried yellow Jonquills.
Best man was Gerald P. Mack of Rock Island, brother of the bridegroom, and groomsman was Dennis Mack of Viola, cousin of the bridegroom.
A reception was held at Neilsons in Chicago, following the ceremony, where a tiered wedding cake centered the serving table.
The bride is employed as a stewardess for United Air Lines in Salt Lake City, Utah.
Mr. Mack attended St. Ambrose college in Davenport and has been a member of the Air Force for the past eight years.
When the couple left for a wedding trip, the bride wore a black and white tweed skirt with a cashmere sweater.
Upon their return they will reside in Clearfield, Utah.
Captain and Mrs. Mack were honored at a reception on Sunday afternoon, March 29, in the home of his parents, Mr. and Mrs. Bert Mack in Viola, with 85 relatives and friends of the couple attending.