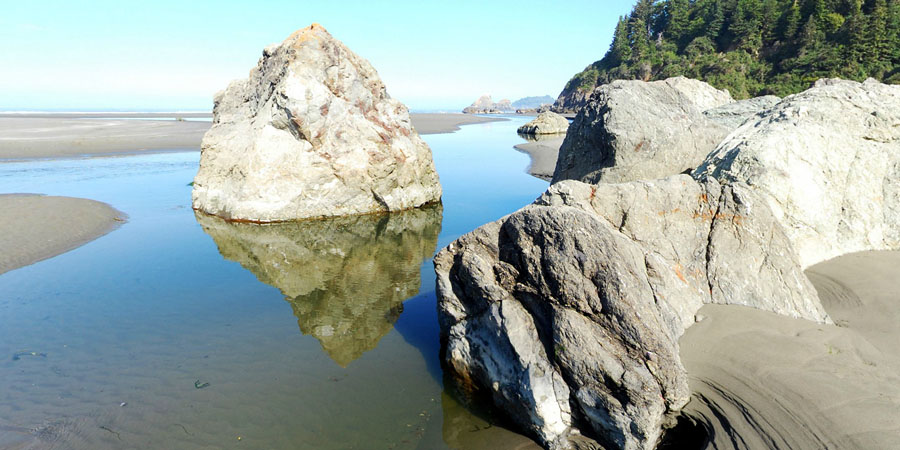 Let's Explore Trinidad, California!

Above is the Little River at Moonstone Beach, located four miles south of the freeway exit to Trinidad, California. Walking from Moonstone to Houda Point at low tide has always been a special treat for me, so I created an interactive virtual walk (of linked 360° panoramas) to share the magic. On a separate page, I suggest ways to creatively interact with the linked 360° panoramas, and say more about the actual walk on this beach.
Trinidad is a small town on California's north coast. On the left is the Memorial Lighthouse overlooking Trinidad Bay and Trinidad harbor. Trinidad is a picturesque place to sight-see and to day-hike, and the setting is complemented by an extensive trail system for public enjoyment.

Steps lead down from the Memorial Lighthouse to Old Home Beach. Walking east on Old Home Beach, we cross two small creeks and come to another trail back up to town. By taking it, we can explore more of Trinidad and loop back to the Memorial Lighthouse. Turn left at the top of the steps, walk past the climbing roses along the bluff, and exit onto Wagner Street. Please see my Trinidad map for locations and trail routes.
| | | | |
| --- | --- | --- | --- |
| | The Trinidad Head loop trail has views of Trinidad Beach, Pewetole, Elk Head, Trinidad pier and harbor, and the coast north and south. On clear days, we can see Patrick's Point and Eureka. The trail is moderately strenuous but well worth the effort. Allow about an hour for this hike. My Trinidad Head map shows the loop trail and what you can see from Trinidad Head. | | Along Scenic Drive are many small beaches and coves, sea stacks, and rugged rocky bluffs with spectacular vistas. Trails lead from parking spots down to Baker and Luffenholtz Beaches, and out to Houda and Tepona Points. See my Scenic Drive map for more details. |
Northwest of Trinidad are College Cove and Elk Head. These two spots are most easily accessed from a parking area off Stagecoach Road. The trail from the parking area to Omenoku Point is nearly level and takes about 15 minutes one way. There is also a worthwhile, although moderately strenuous, trail connecting the parking area at Trinidad State Beach across Mill Creek to the trail system at Elk Head. Allow about half an hour one way for this hike. See my Trinidad State Beach map to locate parking, trails and good places to explore.

Patrick's Point State Park, 10 minutes north of Trinidad, is a big favorite. Great trails and views! Lots to see and do for kids of all ages!

Big Lagoon,15 minutes north of Trinidad, is fun for wading, agate hunting, fishing, kayaking, sailing, windsurfing and birdwatching.

The redwood parks near Orick are just 25 minutes north of Trinidad. Simply majestic... Allow plenty of time to explore the redwoods, too.
Other photos and information

I am learning to take 360° panoramas, and gradually adding some to this web site. Look for a white arrow when your cursor is over certain photos. Click on the arrow to bring up a 360° panorama. I also added a list of 360° panoramas to my index page. The list will slowly grow. Fun!

The California's Redwood Coast website describes more ways to explore and to enjoy Trinidad. It is a valuable reference whether or not you are exploring Trinidad for the first time.

My neighbors at the Turtle Rocks Inn offer a descriptive guide to the Trinidad beaches and suggest itineraries for enjoying our area.

J. Scott Shannon has compiled a photo history of Trinidad, California.

Be sure to download and print the BLM's free California Coastal National Monument Trinidad Gateway Brochure (2.8MB PDF). It describes Trinidad's cultural history and marine life, and it has a map of the very best places on the shoreline to explore.

Please see the Greater Trinidad Chamber of Commerce website for information on lodging and other services.
http://pages.suddenlink.net/popenoe/scenes/Trinidad.htm
Images by Jim Popenoe