Cycling the MS-150 at 77
By Dave Wallace - 110 Portside Lane
Article for the September 2006 RIVER BENDER newspaper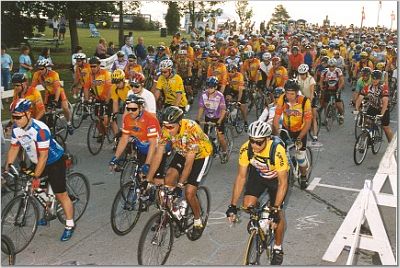 Next Saturday and Sunday 1500 cyclists are expected to converge on New Bern for the 6th annual MS-150 bike tour. All hotels will be filled and Union Point Park will become a campground. This is a big event that began in New Bern in 2001 and has become larger every year. The word is out that this is a fine and friendly place to hold the event and cyclists love the flat terrain and especially being able to return to New Bern on both days of the tour. It's called the MS-150 because each day there is a 75-mile loop out of New Bern and back with an optional 25 miles for those wishing to complete 100 miles, which cyclists call a Century. I always cycle 100 the first day and at least 75 the second day.
This will be my 6th year cycling the tour and I'll be age 77. I'm always the oldest male cyclist and have never failed to complete at least 175 miles. The average age is thirty-something.
What's it like for an old-timer to cycle cross-county with kids younger than his children? I must confess there are times on the road when I began to wonder if I'm really having fun. Like the time I got cramps in both legs and was in such pain that I could hardly get off my bike. Or riding in a fast group in the rain and being splattered with road-grime from bikes and passing cars. Or cycling mile after mile against a relentless headwind, which is a cyclist's worst enemy. But such incidents fade away to be told later as amusing stories and I always find myself looking forward to the next long ride.
Is it tough to cycle 75 or 100 miles in a day? You shouldn't even attempt it if all you do is cycle around the block occasionally on a heavy fat-tire bike. The secret is (1) cycle, cycle, cycle and (2) ride a lightweight road bike or recumbent bike. If your legs are in pain after 10-20 miles you're not ready for long distance. Other than the possibility of cramps developing, I'm able to cycle for hours on my aluminum road bike at 16-18 mph with no muscular pain or becoming out of breath.
In every tour a few mountain bikes show up but the riders usually have to struggle to keep up with road bikes. What's a road bike? It's a lightweight bike with very skinny tires and drop handlebars, which you won't see in Wal-Mart. Everything about a road bike is designed to make pedaling easy. Wind accounts for 70 to 90 percent of resistance in cycling so you don't sit upright in the wind on a road bike like you do on a mountain bike. What's a recumbent? It's a bike you practically lie down on to reduce wind resistance. They're becoming very popular and prices are coming down but less expensive models are often heavy and don't make much better time than a mountain bike.
Some folks say the MS-150 is a race instead of a tour. The fact is, for many it is a race. But it's really about group cycling and if you want to finish the tour in a reasonable time you must hang in with a group. Why? Because you can draft and pedaling becomes easier and faster with less wind if you're close behind a cyclist. The problem is that the lead cyclist keeps rotating and speed notches up a little with each change of lead. A group starting out at 18 mph might eventually hit 25 and cyclists then begin dropping off. I have a saying that "All unorganized cycling groups accelerate until they disintegrate." But that's OK in the MS-150 because there's always another group coming along behind.
I said one must cycle, cycle, cycle to be able to ride long distances with no pain or strain. I didn't begin cycling until I retired and set a goal of 100 miles per month. Since then I have more than tripled the goal and did it because I didn't want to die young as my father did of a heart attack at age 53. More on my cycling background is at http://pages.suddenlink.net/davew/davebackground.htm.
I wish to thank all the nice folks that sponsored me to cycle the MS-150. They are shown on my web page at http://pages.suddenlink.net/davew/2006ms-150.htm. Although this article is about cycling, the MS-150 tour is about raising money for research to find a cure for Multiple Sclerosis. Everyone knows someone with MS. We have two family members with it and believe a cure may be near. There's still time for you to sponsor me for a couple bucks if you'll send me e-mail. But don't count on me not completing 175 miles in the tour.