The History of Saint Cyprian's Episcopal Church
Christ Church of New Bern, North Carolina has been referred to by many at St. Cyprians as our Mother Church.  As you read of it's history you will understand why.
The earliest reference we have found concerning a Black congregation is Gertrude S. Carraway's book, "Crown and Life."  She states that as early as 1826 a Dr. Mason reported that Sunday evening services at times were held at Christ Episcopal Church in the form of lectures on the Scripture and Catechetical Instruction for the benefit of colored people.  The sequential history of this early congregation is very sketchy as no further reference is made of it for a period of nineteen years, at which time it was reported by a  Rev. Mr. Hawks that a colored congregation had been formed in 1845.  A blank period is in evidence for the next twenty-one years for it was not until 1866 that information of a Black congregation now known as St. Cyprian's Church became orderly and continuous.
After the War Between the States the Reverend Edward E. Forbes, Rector of Christ Church, New Bern, North Carolina reported to the Diocesan Convention being held on May 30, 1866 that there were sixty white communicants and one hundred catechumens in Christ Church.  The next Diocesan Convention was held in Wilmington, North Carolina.  At that convention Reverend Forbes announced that all colored communicants had been transferred from Christ Church to St. Cyprian's Episcopal Church with Reverend H.A. Skinner in charge as their Rector.  We have no record of how long Reverend Skinner served this congregation, but it was at that point that we reckon St. Cyprian's as a permanent separate and distinct entity.  Within two years after the beginning of this congregation it had grown from fifteen to one hundred and two communicants.  A year later Bishop Ives reported, according to Carraway, that he had visited the congregation and found it flourishing.
For a time after leaving Christ Church Reverend Forbes assisted at St. Cyprian's Church, which he had so helpfully sponsored.  His unfailing desire to aid the poor and unfortunate was exemplified in his will.  Among his bequests were funds to assist St. Cyprian's Church and St. Augustine School near Raleigh, North Carolina.  A scholarship fund of $115.00 annually was set aside for diocesan ministerial students; this institution being left his books.
St. Cyprian's original place of worship was a framed edifice that stood at the intersection of Johnson and Metcalf near Cedar Grove's Cemetery entrance.  The building was purchased from the Christian denomination who had purchased it from New Bern's original First Baptist Church when they erected the second First Baptist Church on Middle Street in 1848.
The records show that the first Black priest to serve St. Cyprian's was a Reverend Peter Cassey, who took charge in 1880.  He served until 1894.  Under his tenure St. Cyprian's received a charter in the Brotherhood of St. Andrews in 1892.  Cassey was followed by an unbroken chain of Black priest until 1969 as follows:
The Reverend George Miller, 1895 – 1896.
The Reverend George Avant, 1898 – 1907.
The Reverend  J. Taylor, 1907 – 1913.
Taylor, from Petersburg, Virginia, was sent to St. Cyprian's by the Rt. Rev. Robert Strange, Bishop of the Diocese of East Carolina.  Taylor guided by God began to build a brick church to be dedicated to God and for the uplift of humanity.  As of January 1912, the members of St. Cyprian's were worshiping in their new church.
The Reverend S. A. Morgan, 1915 – 1916.
The Reverend R. I. Johnson, 1918 – 1946.
In 1922, during Johnson charge the church served as an emergency hospital for the victims of a disastrous fire which destroyed a large segment of the Black community.  During this interim emergency a child was born and named for the church.  As a result of this experience, Rev. Johnson dedicated his efforts toward providing basic hospital care for the Black community.  His efforts were rewarded some sixteen years later.  The Good Shepherd Hospital was opened on June 26, 1938 as the only such institution in an eighty mile radius.  It was sponsored by the Diocese of East Carolina and located on property that had been left the diocese by the Rev. Forbes.  Much of the Rev. Charles E. Williams time as well as that of Mr. Robert R. Noe, Mr. Edward K. Bishop and Dr. Lula Disoway had been given to Good  Shepherd Hospital for Negroes.
The second anniversary of Good Shepherd Hospital was observed at Christ Church on Sunday, June 30, 1940.  At that time it was announced that there was no outstanding indebtedness on the $70,000 building and equipment.  The Duke Endowment, the Pennsylvania Diocese and others were among the donors.  Women auxiliaries of East Carolina and Massachusetts gave the hospital quantities of linens and supplies during the Spring.  The board of directors had as its chairman and treasurer Mr. Noe.  Rev. R. I. Johnson served as its manager and chief organizer.  During this period R. I. Johnson enjoyed an impeccable reputation for service in the community and diocese.  He engaged in special programs on " Race Tension."  He spoke on one such program as early as February of 1945, which was held at St. Mary's Episcopal Church, Kinston, North Carolina.  The other chief speaker was Rev. Mortimer Glover, Rector of St. James Church, Wilmington.
The Reverend W. A. Wilkins, 1948 – 1952.
Wilkins was instrumental in initiating High Church service.  He served as chaplain of Good Shepherd Hospital.
The Reverend Francis G. Johnson, 1953 – 1960.
Johnson continued to expand the High Church tradition and was active and visible in the community.  He also served as chaplain of Good Shepherd.
The Reverend Aldophus Carty 1963 – 1969.
During his tenure the church was revitalized.  The church sponsored a scouting movement involving a Cub Pack, Boy Scouts, and Explorer Scouts.  The men of the church were reactivated into the Brotherhood of  St. Andrews.  He also served as chaplain of Good Shepherd Hospital.
The Reverend Leslie W. Hewitt, 1969 – 1982.
The major accomplishment during his tenure was the renovation and restoration of the church with the assistance of the Historic Society and the Kellenberg Foundation.  He was of British heritage and constituted the first break of Black priest which began in 1880.
The Reverend Marion S. Poitier, 1982 – 1988.
Under Poitier's ministry the church reverted to the use of the Free Standing Altar, the Tabernacle and the Reserved Sacraments.  The church became an active participant in a variety of community, diocesan and ecumenical programs, such as the Religious Community Services, the Coalition of Black Episcopalians, and the LARC conferences.  The church became the first Black church to be listed on the historical tour of the city. 
The Rev. Poitier retired in October 1988 due to illness.
The Rev. Thomas C. Noe became our priest in charge from advent of 1988 until December 1989.
The Reverend William Hadden, 3rd , 1990 –2000.
Deacon R.C. West, 2002 – 2003.
In September of 2004 a Covenant for ministry and mission between Christ Church, New Bern, North Carolina and St. Cyprian's Church was implemented with the clergies of Christ Church; the clergies being the Rev. Canon Dr. Peter B. Stube, the Rev. Mary Frances Curns and the Rev. Jeremy M. Warnick who serves as our Vicar.    
You will note that during certain intervals when no priest was assigned, services of the church were conducted by supply priests or Sub-Deacon, C.C. Stewart, Sr. and Lay Reader, Dr. S.D. Bryan.
The Rev. Lynn C. Peterman, 2007 – 2009.
In August 2007 the Rev. Lynn C. Peterman became Priest Associate at St. Cyprian's.
The Rev. Peterman's tenure lasted until September 2009.  She resigned in September 2009 to attend school to seek a Ph.D. in Psychology.
Since her resignation the Rev. Patricia Thomas has served as our supply Priest.
Researched and Submitted by:
  Alice M. Saunders
  St. Cyprian's Episcopal Church
  New Bern, North Carolina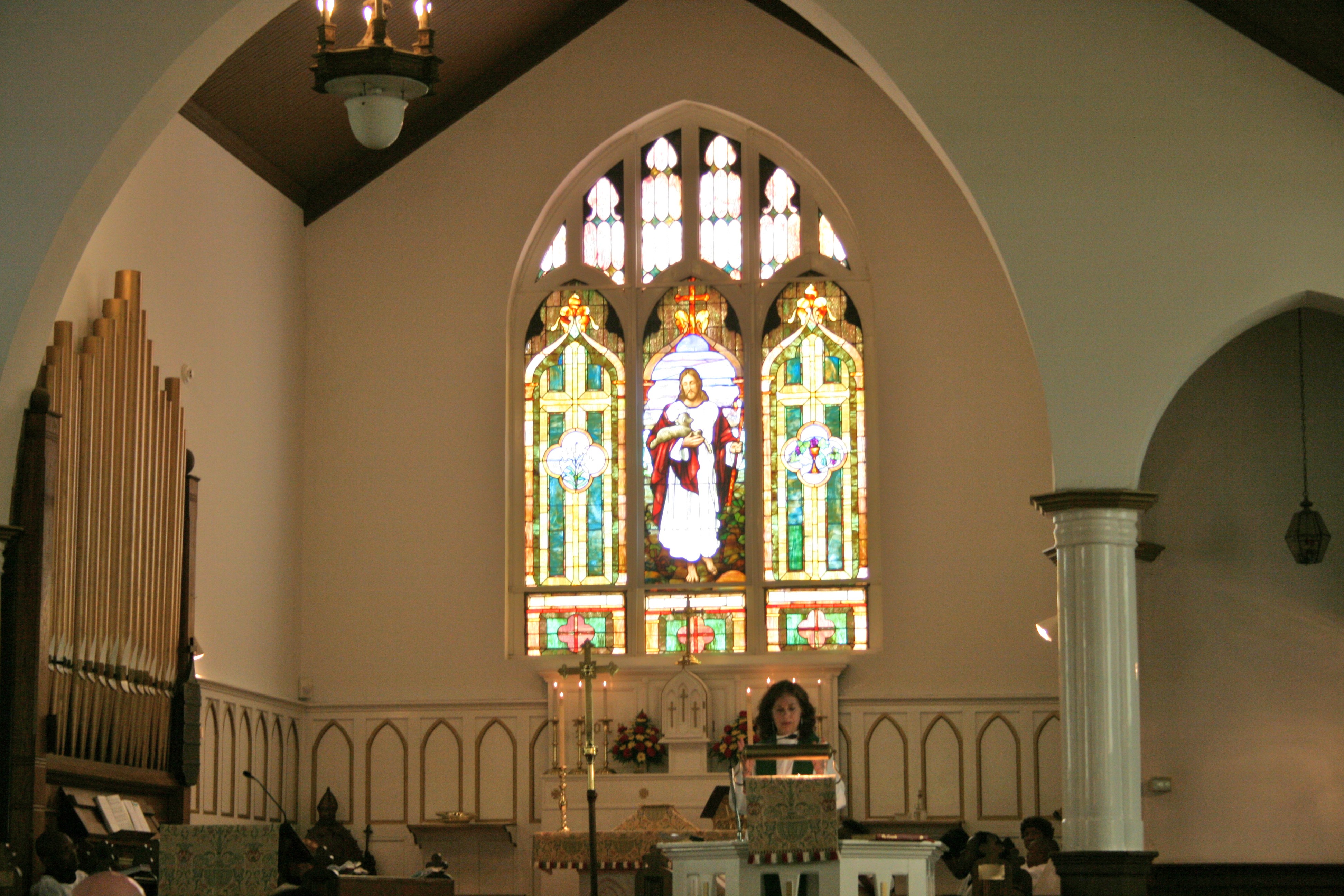 Contact
St. Cyprian's Episcopal Church
604 Johnson Street
New Bern, NC 28560
(252) 633-3816
Email: stcypriansnewbern@hotmail.com
Created by Lisa K. 2011 All rights reserved