50 Years Of Texas Caving
>>>50 Years Of Texas Caving is now available.<<<
You have been hearing about it for years! What is this book all about?
50 Years is an attempt to tell the story of Texas caves and cavers from the beginning to the present.
It is the end result of 10 years of research and material sourcing.
In its 526 pages are nearly 1/4 million words, more than 200 color illustrations, over 100 b/w illustrations,
nearly 100 cartoons, and many, many, charts, tables, and maps. No effort has been spared to cover nearly every
aspect of Texas caving. There are more than 2,000 entries in the People Index alone!
Click here to read what others are saying about this book.
Click here to read Bill Mixon's review in the January NSS News.
Click here for further information as to how you can acquire this volume for your library.
Meanwhile. . . .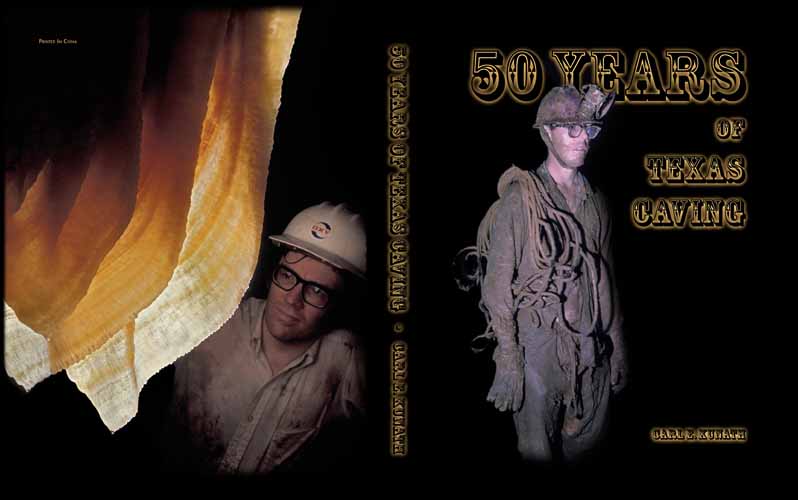 Follow these links for a few sneak previews of 50 Years
Click here to view the Table of Contents [172 KB PDF file]
Click here to view the lists of Texas' Longest and Deepest Caves [576 KB PDF file]
Click here to view covers of the major Texas cave humor publications [2 MB PDF file]
Click here to view a few pages from the Group Histories section [587 KB PDF file]
Click here to view a page from the "Amazing Stories" chapter [881 KB PDF file]
Click here to view a sample from the Yearly History section [6.4 MB PDF file]
Click here to view a few pages of the "Powell's Cave" essay from the Greatest Caves chapter [2.9 MB PDF file]
Click here to view the "What's In A Name" essay [138 KB PDF file]
Click here to view the "Stuffing the FJ-40" essay [162 KB PDF file]
Click here to view the "People" portion of the Indexes [207 KB PDF file]
Click here to view the "Rise & Fall of The Texas Speleological Association" (abridged) essay [1.1 MB PDF file]
Click here to view a few pretty pictures from the Caverns Of Sonora chapter [2.2 MB PDF file]