Photography
Just as with my GPS interests, I'm no expert in photography. However, my 25+ year-old, mostly dormant, interest in photography was re-kindled in mid-summer 2007, prompting the purchase of a DSLR camera.
I gave my old (film) Pentax ME Super, its lenses and all accessories to my sister after buying a Canon Digital Rebel XT (350D) from Adorama. I decided to forego buying the standard kit, since I wanted a better lens than the supplied Canon 18-55mm f/3.5-5.6 lens. For a roughly $100 price, it's not that the kit lens was bad, but I knew I wanted something a bit better in the long run, so I chose the Sigma 17-70mm F2.8-4.5 DC Macro zoom as my walking-about lens. About a year later, I added a Canon EF 70-300mm f/4-5.6 IS USM zoom. Although not quite up to Canon "L" standards, it's nevertheless a cut above consumer grade optics.
I also bought a BG-E3 battery grip and after a while, a second battery. With this I can shoot for days on a single charge.
Here's a quick and dirty shot of the camera (taken with a Kodak 5mp P&S camera).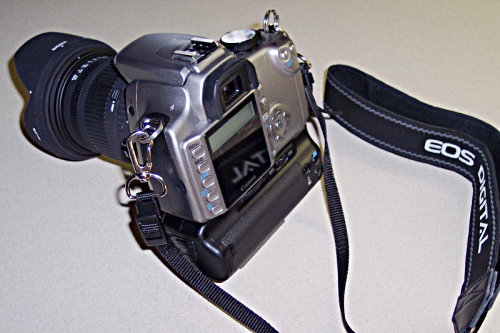 Since this was taken, I've replaced the stock Canon strap with a MUCH more comfortable Op/Tech Super Classic strap. As you can see, I also added a snap swivel and split-ring attachment scheme to the strap ends so they're easier to attach and remove. Plus, this way a long pig-tail of strap isn't left hanging with the strap is removed.
I also later bought a Norazza Ape Case PRO1400 to replace the smaller InFocus case I had bought from Wal-Mart so many years ago. It's a really great case, with good protection, sensible design and lots of pockets.
I already had a perfectly good tripod - A Bogen/Manfrotto that I've had for 15 years or so. It was used with my Orion 10x70 Little Giant binoculars. However it had a video-style "fluid" head that wasn't really good for still photography. I finally replaced that with a Bogen / Manfrotto 804RC2 3-way pan-tilt head.
A sensor cleaning kit, Giottos Rocket Blower and other minor accessories have followed, but that's about it.
I've also discovered an excellent online resource and community - The Yahoo Digital Rebels, who also have their own PBase gallery. If you shoot a Canon DSLR, check us out - We're a friendly bunch and a great learning resource.
Right now, this page is pretty bare, but I hope to include more useful information over time. However, it's likely it will always lag behind the times, so you'll be better off looking at my PBase galleries. Stay tuned!