NOTICE
NCHA is no longer working with show secretaries on paper work. You MUST bring photocopy of horses' papers, and NCHA cards for both owners and riders!
TRAINERS: Get copies of the paperwork from owners!
OWNERS: Give necessary paperwork to your trainers!
YOU CANNOT SHOW WITHOUT THEM!
NOTICE

---

Submit photos, posts or updates to:
PCHA web updates

---
Check out our sponsors and thank them!
---
New for 2013
A hearty welcome to our new and returning directors, Bonnie Abraham, Jim Cogdell and Ralph Depew and to our returning officers, Richard Hicks, President, and Jason Abraham, Vice-president.


---
Awards for 2012
The awards for 2012 were Buckles, back girth with custom buckles, West Texas Western Store gift certificates and headstalls.
---
2012 OPEN CLASS WINNERS
1st - Guns A Flippen owned by Joyce Barclay, ridden by Jeff Chase
2nd - Lil Cuttin Smart owned by Salt Fork Cattle and shown by Dana Larsen


---
High Point Non-Pro

Tom Talley

High Money Horse


Lil Cuttin Smart
ridden by Dana Larson
---
AWARDS
Contact Us
NEWS
---
---
Year End Banquet News
We had a trememdous 2012 banquet at the Commercial Arts Building on the TriState Fairgrounds. Prime rib dinner catered by the Coors Cowboy Club. Special thanks to Elaine Jones for the pretty table settings; Richard Hicks for the awards; Don Johnson and Harley Cogdell for the live auction action. The live and silent auctions combined to bring in over $7000 for the club and the scholarship fund.

HOTELS for 2012
the Ambassador Hotel. Details to follow.
---
2013 Show Dates
UPDATED December 2, 2012
| | |
| --- | --- |
| Jan. 19-20 - Bill Cody | June 15-16 - Tommy Grant Arena |
| Feb. 23-24 - Bill Cody | Aug 3-4 - ANC |
| Mar 16-17 - Bill Cody | Sep TBA |
| Apr 20-21, Bill Cody | Oct 12-13 - Bill Cody |
| May 25-26 - Bill Cody | Nov 2-3 - Bill Cody |
For more information on 2013 shows, go to upcoming shows, click on 11 and choose Panhandle CHA for a listing of all shows and entry information.

---
The PCHA website is the place to get the most current information about the Panhandle Cutting Horse Association.

Visit often!

---
BLAZING SADDLES YOUTH

The Blazing Saddles Youth Group had another great year thanks to a lot of hard work tremendous support from all of you.
THANK YOU!
Kudos for a great effort by all of our youth. The competition was fierce in both Junior and Senior divisions. The winners are: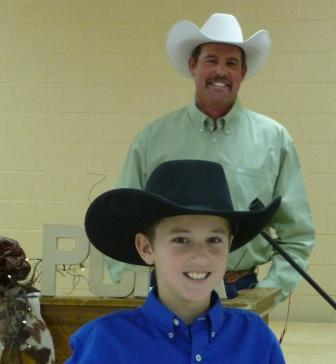 1st-Colton Cogdell; 2nd Jake Baca




1st-Lucchese Cogdell; 2nd-Wacie Winterfield; 3rd-Collbran Larsen; 4th-Harlee Cogdell

Here is our youth photo gallery. It will change as pictures are submitted.
Youth Pics
---

NCHA RULES
Remember again to bring photocopy of horses'papers and NCHA cards for both owners and riders!
YOU CANNOT SHOW WITHOUT THEM!
NCHA RULES


---