Click here for MS-150 Web Page for The Eastern North Carolina Chapter of the National Multiple Sclerosis Society

Turn up your volume
175 miles in two days! It wasn't easy this time. I'm getting older but at least learned how to beat leg cramps by drinking tonic water (less the gin) before the tour. By the way, the latest count of registered cyclists was 979 in the 2003 MS-150 Bike Tour and I was the oldest guy again at age 74!
Here are the statistics. My saddle speed is higher than last year because I managed to hang in longer in fast pacelines to reduce wind resistance.
| | |
| --- | --- |
| Saturday September 13 - 100 Miles * | Sunday September 14 - 75 Miles * |
| | | | |
| --- | --- | --- | --- |
| Start time | 9:00 AM | Start time | 8: 05 AM |
| Finish time | 03:34 PM | Finish time | 12:50 PM |
| Total Elapsed Time | 6 hr - 34 min | Total Elapsed Time | 4 hr - 45 min |
| Overall Avg. Speed | 15.46 mph | Overall Avg. Speed | 16.13 mph |
| 6 Rest Stops+Lunch | 48 min appx. | 4 Rest Stops | 32 min appx |
| Saddle Speed Avg. | 17.62 mph | Saddle Speed Avg. | 18.15 mph |
* Distance recorded on bike computer = 101.51 mi * Distance recorded on bike computer = 76.6 mi
Saturday Century (100 mile) Trip: Over 900 cyclists departed Union Point Park and headed across the Neuse River Bridge in light cool rain. As usual, I tried to stay in the lead group crossing the bridge but this year found it impossible to keep up when they started pushing 24-26 mph at times. Apparently there were many more young fast cyclists this year than last because I was constantly having to fall back and join slower groups. But even in slower groups a new leader would often notch up the speed (bad paceline etiquette) and soon folks would start dropping out. We hit rain on and off for about half the trip. I heard of one accident (from River Bend's ham Charlie Gould) where a woman was taken to the hospital. The hams out of Raleigh and New Bern were very helpful patrolling the roads and working rest stops. The Saturday Century route took us all the way to Pamlico Sound and was marked very well considering so many road changes. I had no idea where we were most of the time. I arrived home exhausted but happy that I had completed the trip, making it my 40th Century ride since September 1998.
Saturday Night Banquet: As expected, the banquet at River Front Convention Center was great. The main meal, of course, was pasta which cyclists like to eat to stock up on carbohydrates. My wife and I had an enjoyable evening taking to a ham and his wife out of the Raleigh area. The Ben and Jerry ice cream stand was a big hit too.
Sunday 75-mile Trip: The starting weather Sunday was a big improvement over the dreary Saturday start as we headed west to Clarks, Tuscarora and up to Fort Barnwell. Again, I tried keeping up with the fast guys but the best I could average to the first rest stop was 20.6 mph where I stopped while the group continued on without me. Hey, they're making it tough. I stop at all rest stops for the usual bananas, oranges and Gatorade but the last one I passed up because I was so anxious to get back to New Bern. The route was pretty much the same as last year and the big hit was again at Yoder's Farm Store near Grifton where home-made ice cream was being made by a gasoline engine belt-driven ice cream maker. Needless to say I was exhausted upon arriving home. It's getting tough for an old guy but I'm hoping to do it one more time next year since it will be the 4th and last year the tour will be held in New Bern.
Another Nice Tour: Congratulations go to Roxanne Hall and all the Raleigh folks at the National Multiple Sclerosis Society who worked so hard to put on such a nice tour including the great buffet dinner Saturday evening at the River Front Convention Center and the Sunday lunch in Union Point Park. I asked Roxanne's boss Bob why we he thought we had so many more cyclists join in this year and he simply pointed to Roxanne. We are lucky the MS-150 tour will be back once again next year for the 4th year!
"If you are a sponsor listed below that pledged a donation to MS, please make out your check before October 13 payable to the "National MS Society" and send it to the National Multiple Sclerosis Society, 3101 Industrial Dr., Suite 210, Raleigh, NC, 27609. Also please write "sponsor for Dave Wallace" on your check. If you forgot the amount that you pledged please e-mail me at davewallace@XXXsuddenlink.net (remove XXX).
Click here to see digital photos I took on the tour
Many thanks for your generous support!
Dave Wallace davewallace@XXXsuddenlink.net (Remove XXX)
The rest is the original web page that solicited my wonderful sponsors...
---
Hello folks, I'm back,
I'm Dave Wallace and alive and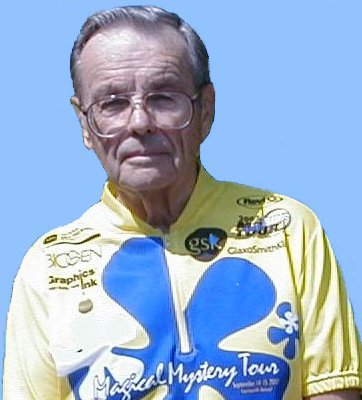 well and ready to cycle the MS-150 on September 13-14 for the 3rd year. I'll be 74 then and may be one of the oldest cyclists in the tour. The Multiple Sclerosis Society has already made plans to return to New Bern in 2004 so I'm hoping I can hang in for a 4th MS-150 tour. We're very fortunate that New Bern has been chosen for four years in a row for the event. The town really made a hit with the National Multiple Sclerosis Society as well as hundreds of cyclists that travel here from all over North Carolina.
What I need from you:
I hate soliciting but to cycle the MS-150 I need sponsors to pledge a donation to the National Multiple Sclerosis Society provided I complete the MS-150 tour. Ordinarily that's 75 miles on each day, however, this year I will cycle 100 miles (Century trip) on Saturday and 75 miles on Sunday. Last year I did Centuries both days but found myself cycling alone for the extra 25 miles on the second day. I think there were lots of out-of-town folks that wanted to head home early.
Where does the Tour go?
Click here for the regular MS-150 Tour Narrative (75 miles each day)
Click here for the Century tour Narrative (100 miles each day)
How to become a sponsor by e-mail:
I plan to do the same as last year and collect no money, just e-mail pledges. This worked last year and I raised $1449 for MS research. If you'd like to be my sponsor please send me your name, address, phone number and the amount you wish to pledge as a donation to the Multiple Sclerosis Society. My e-mail address is below. Upon completion of the MS-150 tour in September I'll notify you where to send your check. You may pledge either a lump sum if I complete all 175 miles in two days or an amount per mile that I cycle. The names of sponsors less amounts will be posted on this web page as I've done in the past (See web pages below). My sponsor list will be turned in to the MS Society at the start of the tour.
Last year I received some pretty hefty pledges. Some, of course, came from folks like me that have family members with MS. I'm not going to turn down any pledges but I'd love to see more sponsors pledging smaller amounts this year such that I would end up raising more money for MS research than last year.
Why donate to the National Multiple Sclerosis Society and what is MS?
The National MS Society is the largest private sponsor of MS research in the world. They support research and training projects aimed at finding the cause of MS, better treatments, and a cure and are currently spending over $30 million a year for over 300 MS investigations. Where's the money going? Most is going to the the University of California, Mayo Clinic, Cleveland Clinic Foundation, Wayne State University, Harvard's Brigham and Women's Hospital and the Albert Einstein College of Medicine. What is MS? Multiple Sclerosis is a chronic, often disabling disease of the central nervous system. Symptoms may be mild, such as numbness in the limbs, or severe, such as paralysis or loss of vision. Most people with MS are diagnosed between the ages of 20 and 50, but the unpredictable physical and emotional effects can be life-long.
Why I think I can cycle 175 miles in two days?
Ever since I met a 83 year-old cyclist representing his state in the 1999 Senior Cycling Nationals at DisneyWorld I realize that I have a long way to go yet. I'm only 73 but have completed 36 Century trips since age 69. I look forward to cycling the MS-150 because it's easy and lots of fun. Why? Because there will be over 700 cyclists and if you've ever cycled in a large group you know that wind resistance, the greatest obstacle to cycling, is reduced and pedaling becomes much easier.
Below are my web pages on cycling:




Dave Wallace davewallace@XXXsuddenlink.net (Remove XXX in address)
SPONSOR LIST
Below is a list of folks sponsoring me in the MS 150 Bike Tour in New Bern on September 13th and 14th, 2003, including the sum total of the pledges:
Addresses are in North Carolina unless noted otherwise
| | |
| --- | --- |
| Henry McKeown - River Bend | Doris & George Pfeiffer - River Bend |
| Dirk Van Zyverden - Fairfield Harbour | Jim & Sherril Miller - River Bend |
| Jim & Diane MacDougall - River Bend | Elizabeth & Ken Brinson - River Bend |
| Otto Kuehrmann - River Bend | Pam and Joe Green - River Bend |
| William & Gloria Kneen - River Bend | Barbara Ward - River Bend |
| Charlie & Billie Gould - River Bend | Vicky and Al Kindler - Youngstown, OH |
| Salsbury Associates - New Bern | Pete & Mary Peterson - Fairfield Harbour |
| Charles & Grace Murphy - River Bend | Rudy & Gail Ramcke - River Bend |
| Ken & Nancy Kubik - River Bend | Fay Zerbo & John Brady - Merritt |
| Bob Mangan - New Bern | Bill Walker - New Bern |
| Jim & Lucille Foran - New Bern | Ken Wyman - Trent Woods |
| Al & Agnes Kish - River Bend | Harriet & Earle Metcalf - River Bend |
| Howard & Gloria Shirley - River Bend | Dick & Nancy Burfeind - River Bend |
| Don & Diane Degnan - River Bend | Dick Rohm - River Bend |
| Nils & Susie Hokansson - Fairfield Harbour | Anna Marie & Harmon Ferer - River Bend |
| Don & Mary Ann Tirabassi - River Bend | Jim Gray - New Bern |
| Richard & Audrey Hill - New Bern | Mary Byrnes - River Bend |
| Ted & June Gladding - River Bend | Palmer Davies - River Bend |
| David & Diana Sousa - River Bend | Janey Anderson - River Bend |
| Fran & Bob Remele - River Bend | Orchid Lee - River Bend |
| David Gover - River Bend | Charlie & Maggie Miannay - River Bend |
| Kermit & Beverly Nicholson - River Bend | Dean & Aileen Eger - River Bend |
| George & Jan Wallace - Miami FL | Cecil & Jo Anne Butterfield - River Bend |
| Trent River Realty (Ron Phillips) -River Bend | Carole Kosarkos - River Bend |
| Art & Marge Wilkinson - River Bend | Edna Bearnes - River Bend |
| Herb Rawls - New Bern | Susan Reeves - Stafford VA |
| Jym Fish - River Bend | Barbara & Reinhold Wind - River Bend |
| Nancy & Wayne Orr - River Bend | Bill & Harriet Milde - River Bend |
| Helen Dawley - River Bend | Lynne & Phil Seymour - River Bend |
PLEDGE AMOUNT TOTAL = $1562.75
Last Update 9/15/03