Cash 'n' Carry Mail Art Project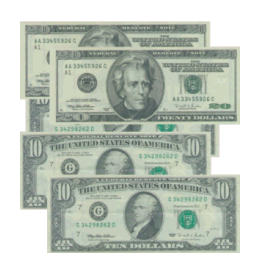 This project was initiated through a "mail art call." A mail art call is an announcement, through mailings, postings online, advertising in magazines and newsletters. The word gets passed around pretty efficiently, as can be seen from the wide response received in response to this "call." The call read: "Cash 'n' Carry (deadline May 23, 2000) Anything to do with money, especially non-conventional uses of it. Extra credit for large denominations of US currency. Hell bank notes and Fluxus bucks accepted but not encouraged. All media accepted. Sculptures encouraged."

I posted this on my web page and sent out about 50 flyers with other mail art sendings. It ended up being posted in several South American and European publications, and resulted in 41 responses from 39 participants. There were no sculptures submitted, and there were a lot of Fluxus Bucks, and some Hell Bank Notes. No one sent any legal US currency above $1.00 -- more's the pity. . .

Click on any of the names to the left to take a look at the art people made in response to this call.