This site is for anyone interested in International Harvester's Farmall H tractors. It contains general information about the H as well as sources of restoration parts and information. While this site is focused on the Farmall H, much of the information, and especially the parts and information sources will be relevant for other letter series Farmalls, such as the A, B, C, and M.
If you are new to Farmall Hs, check out "Buying an H" - what to look for when buying a Farmall H, and "New H Owner" - what to do after you buy..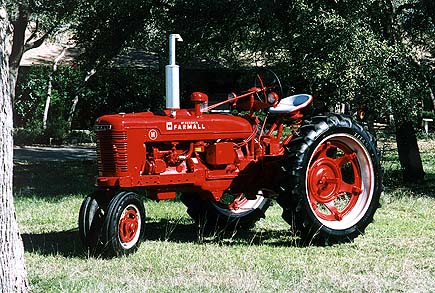 1950 Farmall H originally purchased new by Joe Snodgrass of Pocahontas, Arkansas, and restored in 1998 by his grandson, T.W. Cook in Georgetown, Texas.
I decided to put this site together to try to collect information to encourage others to restore their own Farmall H. If I can do it, anyone can! Please let me know if you find it useful, or if you need information you can't find here or through the links provided. The links at the side of the page will take you to pages with parts sources, information sources, electrical system information, etc. Please explore them all! I hope you find the information here useful, enjoy!
By the way, it should be obvious, but this is not an official web site, and has no affiliation with the manufacturer of the Farmall H. You can find them (and your nearest dealer, still an important and useful source of parts) at www.casecorp.com.
Please visit again often, as I'll be adding material as time permits. If you have questions I haven't answered here, you might try the ATIS Farmall Bulletin Board or the Yesterday's Tractors Farmall & IH Discussion Board. Yesterday's Tractors also has a great deal of other Farmall related research information online. Meanwhile, feel free to email me your questions but realize that I travel frequently on business and cannot always be responsive to email. I decide which material to add based on questions I receive, so don't be shy!