IH and other companies made a wide variety of implements for use with the H. Here are a few examples.
Mowers
Hs were popular as hay machines, and IH made a variety of sickle mowers for them. The 25V (1941-1950), 27V (1950-1954) and 31 (1955-1960 or so) Universal Tractor Mowers were all similar in design - a triangular frame mounted to the drawbar with a single caster wheel. IH also made the H-16, a lighter mower which mounted directly to the drawbar without any caster.
These days, "shredders" or "bush hogs" are more common for general mowing. Most mowers I see on Hs are what we call "drag type" or "trailer" shredders.
Another interesting option now available is a belly mower; these are available in a variety of brands, Woods is well known and makes a good quality product. Many of these are "finish" mowers, meaning that they're for lawn mowing rather than brush mowing. An H is very maneuverable so actually makes a good mowing machine as long as there is no clearance problem with the stack.
| | | |
| --- | --- | --- |
| Here is my H with an IH Number 31 7' sickle mower | Here is my H with an old Corsicana brand 5' shredder that belonged to my Grandfather. | Here is a 1952 H owned by Kirk Armitage, of Ottawa Canada with a 6 foot Woods 306 belly mower. |
Plows
The IH Little Genius plows were popular H implements. Hopefully someone will send me a picture of one being pulled by an H - until then, here is a Farmall F-20 with Genius No. 8 2-14 and a Farmall F-30 with Genius No. 8 3-14 - both owned by Chris Klossner. An H should easily pull the 2-14; the 3-14 would be more of a challenge, depending on soil.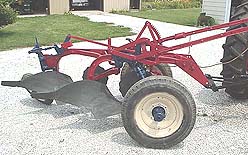 This is Al Marner's 2 bottom IH Little Genius plow, hitched behind his 1949 H.
Cultivators
A popular H implement was a mounted set of cultivators. If you are wondering what that little access door in the grill is for, it is so that the cultivators could be steered.
| | | |
| --- | --- | --- |
| Above is a front view of an H with mounted cultivators (not the steerable variety however). This will help explain what all those bolt holes on the frame and housings are for. | Below is a view of the rear set of cultivators. Note the hand lever lifts; some used the H's hydraulic pump for lift. Click on either photo for a more complete set of H cultivator photos. | These are steerable cultivators, in this shot the steering linkage is clearly visible. Again, click on the photo for a more complete set of shots. |
Others
Please send me photos of your H with implements! For an extreme example of a mounted implement, see this Fowler Jib conversion of an H owned by Shaun Hughes in Australia!