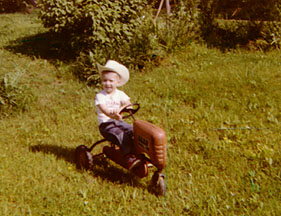 As you can see from the photo on the left, my interest in tractors stems from an early age.
Back in about 1950, my Grandfather, Joe Snodgrass, bought a Farmall H tractor for use on his farm near Pocahontas,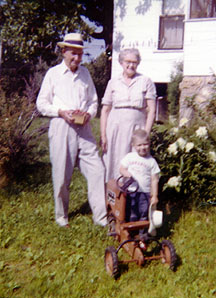 Arkansas. He and my Grandmother are with me in the photo at right. He initially used it for rowcropping, but later switched more to hay production for his cattle operation. Some of my earliest memories are of that tractor; it seemed so tall to me. Some of my first experiences driving (or attempting to) were on it. He died back in the early 70s. When my grandmother died a few years ago, my request from the estate was the tractor. It had spent at least 10 years sitting out in the rain without being run (actually, it had spent most of the time since 1950 sitting out). It took me a few years to get up the nerve to go after it. The story of its restoration is here.
Restoration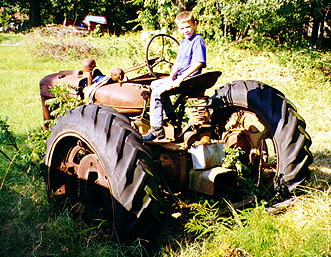 While I wasn't looking to do a show tractor, I wanted to have it in good mechanical and cosmetic shape, for sentimental reasons if nothing else. Along with the tractor I got the mower, a 5' drag type shredder, thinking it would save time to be able to use it to mow the more open parts of the place.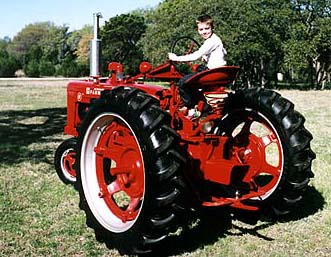 The before/after contrast is still hard for me to believe. I certainly had no idea what I was getting into, but the entire process was very rewarding. I learned a lot, and got a lot of satisfaction from seeing dirty, rusty old lumps of iron turn into beautiful new red tractor parts.
But the best part of all was that I was able to share so much of the process with my sons. Cory (pictured on the tractor) particularly has been with me every step of the way, and has learned so much. Austin has been less interested in the mechanical process, but is very interested in tractors in general, and wants to drive this one very badly. He isn't quite ready for solo driving but it won't take too much longer.

This was originally written back in about 1998. Now of course Cory won't let me drive, other than when he is on his own tractor (a 1955 Farmall 200). See the links below for more about the restoration effort.
[Recovery Road Trip] [Restoration - 1997-1998] [After Restoration] [Implements] [Expenses]